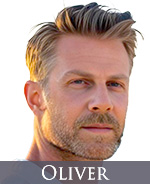 Affirmations, Manifestation, Mystics, Power
"The mystics of every age have seen, sensed and taught THE SAME TRUTH" - Ernest Holmes.

A professional intuitive for almost two decades; Oliver is a highly regarded and sought-after guide well known in Europe, the Far East and throughout North America. Born and raised in Copenhagen, Denmark, Oliver refined his innate clairvoyant and clairsentient abilities, adding timeless spiritual principles to his work.

Recently a Licensed Spiritual Coach with The Centers for Spiritual Living Oliver has a deep passion for teaching and bring out in people their own individuality and power to create exactly the kind of life they desire to live...
Oliver E-mail Services
Our Advisors provide e-mail services for added convenience. Look below to see what services are being offered by this particular advisor. To order any of the services simply click on the title to be taken to the registration page.
Affirmative Power Blessing ...

Thank you for your interest in the Power of Affirmative Blessings. These Blessings aren't' your traditional blessings where you ask for something and hope to receive it. These blessings are power expressions of your desires that were formulated by Science of Mind founder Ernest Holmes.

They're simple to perform and I need a small amount of information from you to get started creating your personalized prayer.

1. Tell me what it is you want this blessing to focused on. Be Specific, as specific as you can and try to keep your focus to just one area. For example, to say, "I want to be happy" could entail a relationship, money, health, etc. So pick the most important issue for this blessing and you can get other specific blessings for other issues. (you can also order blessings for your pets, children and friends).

2. This is important. Tell me what you would feel if your "request" came true. Pour on the Adjectives, they will help me tailor this blessing to you to a perfect fit. (Example: To be out of debt would make me feel lighter, my stomach would unclench and I see myself laughing, full of joy. I would lose the fear of shopping and order dessert just because I could).

That's it, just let me know those things and I'll have your blessing back to you in a very timely manner. I'll even try my best to let you know when I'm working on it so you can tune in with me.


Trust me, you can have anything you truly want.



$75.00
Show Oliver's E-mail Services
Hide Oliver's E-mail Services