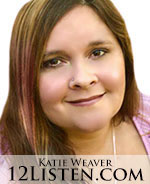 Animal Communication, Energy Work, Manifesting, Mentoring Psychic Kids
Katie is a Reiki master healer, as well as a psychic medium. She is passionate about animal communication. Katie has a degree in Early Childhood Education, and specializes in working with psychic children and their parents. She has been trained by the state of Idaho to be a one on one mentor. Katie has been teaching classes on many kinds of divination, space clearing, animal communication, energy healing, and manifesting for years. As a Cancer, she is very nurturing and loving to her clients and students. She a has a wonderful way of connecting lovingly to all she comes in contact with.
Katie E-mail Services
Our Advisors provide e-mail services for added convenience. Look below to see what services are being offered by this particular advisor. To order any of the services simply click on the title to be taken to the registration page.
1 Question Reading or Energy Work Request

This is a great way to ask me to look into any situation. I will provide you with all of the messages and insight that I see surrounding your question. Please send me your question, and I will provide you a 150-200 word response.

If you are need of a quick tune up or have an energetic issue that you would like me to look into, please let me know where you would like me to focus and I will happily do so, and send you a message with my findings and what I did.





$35.00
VIDEO READING: One Question Reading or Energy Work Request

This is a great way to ask me to look into any situation. I will provide you with all of the messages and insight that I see surrounding your question. Please send me your question, and I will create a video reading for you.

If you are need of a quick tune up or have an energetic issue that you would like me to look into, please let me know where you would like me to focus and I will happily do so, on video, as I do the work and explain to you what I am seeing.

I will send you a private link in order to view your video. For your protection, no one will be able to view your video unless you provide them with the link.

Remember, this is a personalized video reading created specifically for you! I am really enjoying the video format, as it gives me a chance to connect more personally with YOU!

Here is what others are saying about my video format readings:

"This is an incredible reading, I definitely recommend! Katie is to the point, compassionate with a fun loving humor! The video makes it feel like she's right there with you!"

"Loved the video reading format very much. The information and guidance that I received was spot on, direct and loving. I'm a big fan of 12Radio resources. Thanks!"



$59.00
Video Class: Forensic Mediumship

***Purchase the video of my Forensic Mediumship class here! Upon purchase, I will send you a private link to take this class on your own time.***

Have you ever wondered how psychics use their gifts in helping to solve crimes? There are many ways that psychic gifts can help, but a key way is mediumship. Imagine calling in the victim to a crime and interviewing them about the way they died, as well as practice activities.

Psychic Medium Katie Weaver is ready to teach you how to do just that. Students should expect to learn how to call in a specific person and what questions to ask to get a good sense of the crime.

We will discuss ethics, emotions, and the energy of doing this sort of work, as well as practice together.


$44.00
Video Class: 4 Card Spreads to Change Your Life

***Purchase the video of my "4 Card Spreads to Change Your Life" class here! Upon purchase, I will send you a private link to take this class on your own time.***

In this fun and interactive video class, I will teach you 4 creative oracle card spreads that you can use to read for yourself and others. Along with the video, students will receive all 4 spreads in PDF format.

Be sure to bring your favorite deck and a way to take notes.


$44.00
Video Class: Group Mediumship Experience

***Purchase the video of my "Group Mediumship Experience: Connect to your Loved Ones" class here! Upon purchase, I will send you a private link to take this class on your own time.***

This class is designed to help you connect to your loved ones the other side. If you have been longing to make that connection, this class is for you. I will lead you on a carefully guided meditation and energy practice to a place where it is easy to call them in and feel their love and guidance.

You do not need to have mediumship skills to be successful with this exercise, I will help!


$44.00
Video Class: Group Past Life Regression

***Purchase the video of my "Group Past Life Regression" class here! Upon purchase, I will send you a private link to take this class on your own time.***

Join me for a fascinating dive into your own past lives. We will journey together into a past life that holds significance for you in your current life. Past life work is very effective for healing old wounds working on traumas and phobias, and helping people to understand more about their own tendencies and gifts.


$44.00
Show Katie's E-mail Services
Hide Katie's E-mail Services